At the end of last year, I delved into the realm of mobile development and its intricacies, investing in an entry-level M1 MacBook and an iPad Air 5, both powered by Apple's chips.
Freshly immersed in the Apple ecosystem, I found their approach to providing beta versions of operating systems quit intriguing, and I decided to take the plunge on both devices.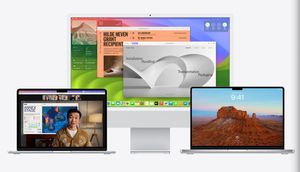 macOS
macOS 14 (Sonoma) is pretty cool and surprisingly stable for a beta version. The features I enjoyed the most include widgets directly on the desktop and webcam effects, which are very helpful in situations with less-than-ideal lighting. I've been using portrait and studio lighting modes extensively.
The new animated screensavers and the game mode were also positive aspects of the update.
The main annoyance and what will deter me from participating in future macOS betas is that you can't generate production builds of iOS/iPad apps for the App Store since Apple doesn't allow content produced in beta versions of their products (whether it's macOS or Xcode) to be published. It's possible to upload the app for testing on TestFlight, but for publishing, you can only do so from a computer with a stable version of the operating system and IDE.
Another annoying bug I encountered was related to the time zone. When starting up the computer, it placed me in an entirely different time zone. Only after logging in, the correct time was displayed. Overall, a positive experience for a beta.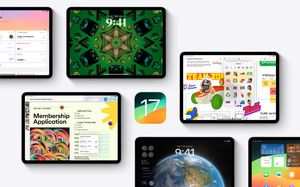 iPadOS 17
I've been using the iPad much more than I initially thought I would. It truly is a versatile device that opens up possibilities for various uses, quite distinct from the experience of a traditional computer. I use the stylus for note-taking in GoodNotes, take Duolingo lessons, consume media, make Discord calls, and also use it as a portable second monitor.
The iPadOS 17 beta appears to be a greater evolution compared to macOS 14. My favorite enhancements are geared towards using the tablet in a more traditional computer-like manner. The window resizing feature in the stage manager mode has improved significantly.
Applications have more predefined window sizes and respond better to changes. It's far from perfect, but it's a step in the right direction. Support for external cameras is a good start, although I feel the iPad wasn't able to fully utilize the quality that my webcam offers.
If I could add a few things before the final version, they would be the ability to:
choose audio output when the tablet is connected to a monitor.
use only the external monitor, turning off the tablet screen.
change the cursor from a circle to a pointer when a mouse is connected.
In general, the experience here was also positive. When the final version of the system becomes available, I intend to delve into other features, such as the improvements to Siri.